Is "big brother" watching? It can sometimes feel that way when targeted ads, articles, or emails suddenly pop up in your feed or inbox promoting a product or service you were just researching. 
Are they reading my mind?
If it seems like brands know exactly what you're looking at online or talking about on social channels, the truth is, they kind of do. Algorithms and audience research tools help deliver content and customer insights in ways that are incredibly targeted (and kind of creepy at the same time).
How do they do it? Read on to learn more about audience research methods and techniques.
What is Audience Research?
Your target audience (i.e., your buyer personas) might include both existing and potential customers. But audience research is much more than simply identifying who your ideal customers are.
Audience research is about identifying how your ideal customers behave and the ways they prefer to interact with your brand.
The buyer's journey rarely follows a single trajectory. Audience research identifies the paths your ideal customers embark on while headed toward their final destination. In a B2B inbound marketing context, it also refers to how they engage with that content. 
B2B Audience Research Tools
Connecting with audiences on a deeper level requires a new perspective. Instead of observing a customer's buyer's journey from afar, envision yourself walking alongside them and guiding them toward their destination (your solutions). These deeper connections can only happen when you truly understand when, where, and how they spend their time online.
Thankfully, there are several platforms that can supplement your inbound marketing efforts by identifying where and how your audience is engaging online — and where your competitors are, too.
Three of the best tools for audience research we've found include:
There are billions of web pages, social media profiles, podcasts, and other online platforms where your customers might spend their time. Sparketo crawls more than 80 million profiles to discover who they are, which channels they're engaging with, and what they're doing on them.
With Sparketo's insights, you'll discover common influences among your target audience so you can focus on the right channels. The types of data you'll find include demographics like job titles and education, behaviors like what they read or watch, and text data including hashtags and language. The insights you'll gain into your customer's online behaviors are really quite remarkable.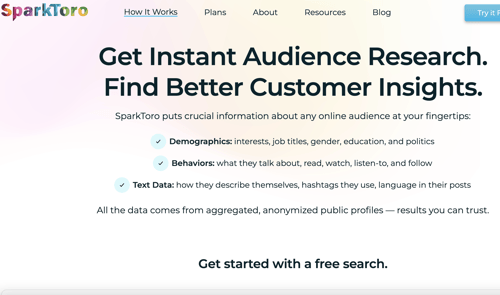 Gain a deeper understanding into your audience with Audiense, ranked one of the top audience intelligence platforms by G2. In just a few hours, the platform will collect "multiple and valuable insights of any target audience." Considering your marketing team might spend weeks researching your audience's preferences, that could be a big time saver. 
Audiense segments social channels and helps identify influences among your target audience, plus you can download reports and integrate them into your current methodology. Users tout Audiense's thorough onboarding with a dedicated customer service rep, and one reviewer had this to say about its effectiveness: 
"This software helped me identify the best influencers talking about a brand we are interested in partnering with…I saved myself a ton of research time that would have been based on gut and assumptions. The data I now have is exactly what we needed."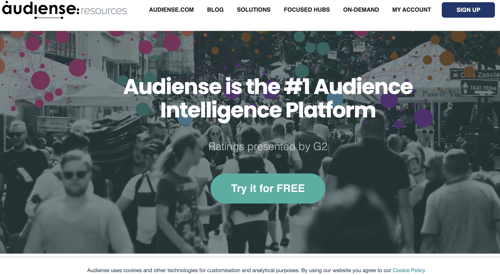 BuzzSumo offers more than just audience research tools. They also help you identify new keywords, conduct backlink analysis, find content ideas, and perform full-blown competitor research. As a cloud-based app, there are no software downloads or lengthy configuration.
Its audience research tools allow you to conduct influencer analysis, perform customer keyword research, and more. It doesn't crawl as many websites or social platforms as Sparktoro, but BuzzSumo's combination of additional features and tools makes it a strong contender.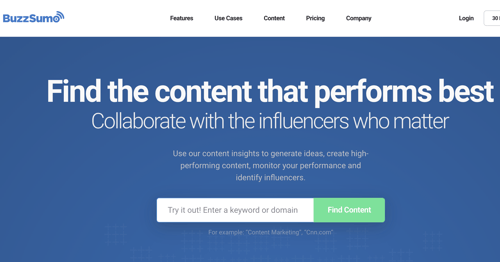 B2B Audience Research Techniques
Now that you have tools that can identify where your audience is, use the following techniques to engage them.
1. Content and Distribution Promotion
If you're not distributing and promoting your content in the right places, your target audience won't see it. Some practical ways to distribute your content include tapping into your digital networks. Engage directly with digital industry communities, prospects, and influencers through social networks, online forums, email campaigns, and other channels. 
An especially effective technique is paid advertising that targets audiences who search for specific keywords on Google or follow key influencers on social media. Remember that the first tool you'll need to invest in is a robust CRM to help you monitor all these interactions, capture data, and continue the conversation.
Learn More: We've dedicated an entire article to The Best Content Promotion Strategies, so be sure to check it out. 
2. Community Building
Companies that succeed and grow in 2023 and beyond must excel at creating connected customer experiences. Community building and customer engagement are crucial to meeting today's audience's needs in this "age of the connected customer" — the dominating theme from this year's INBOUND conference. 
The way you connect with your audiences today may not look the same as it did a couple years ago, however. It's important to remember that buyer behaviors shifted as a result of the pandemic. Building customer relationships is harder now, so it doesn't hurt to take a fresh look at your playbook to ensure your methodologies and digital channels still resonate with your target audience.
RELATED: 2022 B2B BUYING BEHAVIOR STUDY — 6 KEY TAKEAWAYS 
3. Lead Generation
Is it just me, or does it seem harder to get prospects to provide their email or other information in exchange for your content? Honestly, that may not be a bad thing if those who responded to your calls-to-action (CTAs) in the past didn't fit your ideal customer profile to begin with. The quality of your leads is much more important than quantity.
Lead generation tactics need to evolve and more precisely target channels that your best prospects use every day. Are they on LinkedIn or do they hang out on Twitter? Do they participate in industry forums or subscribe to certain digital publications? The audience research tools we shared above will help you get answers to these questions. 
Using audience research tools will help you discover existing and potential new channels where you will get noticed by buyers and increase engagement and lead generation.
It can feel overwhelming to monitor every possible channel your prospects might use. That's why it's important to leverage tools that can do a lot of the heavy lifting for you. 
If you haven't noticed, a lot more B2B conversations happen on social channels now than they did a short time ago — meaning your audience is likely hanging out there already. Many manufacturers and industrial companies have yet to devote much of their marketing efforts to social media, though. To help, we've developed an extensive guide to social media for complex industries. Be sure to check it out below, and let us know how we can help you strengthen your inbound program or start one all together.